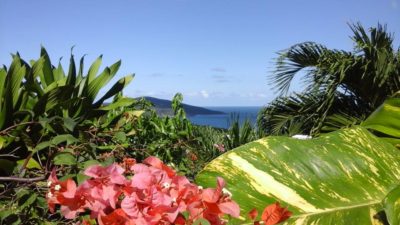 Its unsurpassed beauty is most evident as you approach by sea. The highest elevation is a little over 1600 feet.  It is the second largest island of the three, measuring approximately three miles wide and some thirteen miles long. The hustling and bustling town of Charlotte Amalie surrounds the harbor and offers a shoppers haven with shops on Main Street, Back Street, and the many small narrow alleys between the two.  It is also known for its many eateries that will totally not only satisfy but actually tend to overwhelm any and all of the most refined sophisticated pallets.
Many restaurants are located down town which includes a special section called French Town while others are located on the east end known as Red Hook while yet others dot the mountainside. If you like a highly spirited nightlife and native music, St. Thomas is the place to be. You'll even find a rain forest as you ascend the steeply winding roads going to Mountain Top, it being a spectacular observation point offering breath taking views.
From its lofty perch you'll be able to see majestic Mahogany Run, a world renowned gated residential community which takes in the entire mountainside that encompasses the islands most famous golf course. Three of its greens are referred to as The Devil's Triangle and perched high on rocky cliffs with the Caribbean Sea spraying the rocky landscape far below.
Needless to say, golf can't get any more challenging. You will also spot one of the top ten beautiful beaches in the world called Magens Bay. On the east end of the island you'll find the somewhat sleepy village called Red Hook where one can catch a ferry to reach St. Johns, it being approximately a twenty minute boat ride.  The ferry also makes port in all three of the British Virgin Islands.
The real estate choices and listings are numerous and include anything from private villas, condos, impressive single dwellings to interval ownership by the week or multiple weeks.  No matter what your real estate choice may be, if so inclined, I can assist you in acquiring your very own special oyster that harbors yours and yours alone very special real estate pearl. Search St Thomas Listings